---
---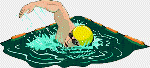 Teofilo Yldefonso Haydee Coloso-Espino
Other Swimming Champions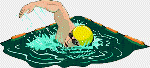 Teofilo Yldefonso is considered as the finest Filipino swimmer ever. Known as the "Ilocano Shark", Yldefonso is best remembered for accomplishing two feats: being the first Filipino to win an Olympic medal and the only Filipino who won two Olympic medals. He won his first bronze medal at the 200-meter breaststroke event in the 1928 Amsterdam Olympics and his second bronze at the same event in the 1932 Los Angeles Olympics. His fastest time was 2 minutes and 48.4 seconds in the 200-meter breaststroke. Yldefonso was born in Piddig town, Ilocos Norte province.


Haydee Coloso-Espino was acknowledged as the "Asian Swim Queen" in the 1950s. With a total haul of 10 medals, she is the most bemedalled Filipino athlete who participated in the Asian Games. Her medals include three golds, five silvers and two bronzes which she won in 1954 Manila Asiad, 1958 Tokyo Asiad and 1962 Jakarta Asiad. Her gold medals came from the 100-meter freestyle and butterfly events.


Ral Rosario, a participant in the 200-meter freestyle event, won the country's only gold medal in the 1978 Asian Games. Before this, Rosario won a silver medal in the 100-meter backstroke and another silver in the 200-meter backstroke in the 1974 Tehran Asiad. He later became the secretary-general of the Philippine Amateur Swimming Association (PASA).
Akiko Thomson grabbed the headlines and won the hearts of many Filipinos as an adorable young swimmer many summers ago. She continues to make a splash, this time, on primetime television
Sports enthusiasts know her. And so do almost every Filipino. As a former swimming Olympian and bemedalled athlete, Akiko Thomson brought honor and prestige to country at a very early age. Five years after her retirement from the highly competitive sports arena, she remains to be a popular name and face in the country as one of the hosts of television program Gameplan.
Taking a radical shift from sports to broadcasting, Akiko says this transition is something she has always wanted to do. "I've always seen myself working in the media because it's something that I'm comfortable with. It's something I enjoy," she enthuses.
Old habits die hard, so they say. "The good thing (about being an athlete) is I kind of carry it (the discipline) over. I'd like to think that it should," she explains. "I remember during my first time in Gameplan. I was so caught up in being there on time and like, the people were saying 'hey, take it easy'," she recalls with a laugh.
Aside from slicing through the water, one thing Akiko loves is the experience of visiting different places, encountering other people and experience foreign cultures. Particularly close to her heart is Barcelona where she competed during the 1992 Olympics. "There's just so much culture there, so much meaning," she says.

Among the Filipino swimmers who have triumphed in various international competitions include Edgardo and Rosalina Abreu, Dolores and Rudy Agustin, C. Aiville, Lourdes Alba, Sotero Alcantara, Rene Amabuyok, Betina Abdula Ampoc, Ulpiano Bacol, Raul Badulis, Condrado Benitez, Edilberto Bonus, Edrin Borja, Carlos Brosas, Walter Brown, Eric Buhain, Bertulfo Cacheco, Victoria Cagayat, Jacinto Cayco, and Robert Collins;

Angel Comenares, Lorenzo Cortes, L. Cristobal, Victoria Cullen, Imlani Dae, Nancy Deanio, J. del Pan, Freddie Elizalde, Helen Elliot, Angela Fermin, Hedy Garcia Galang, Jocelyn, Sandra, Sonia and Sylvia Von Giese, Leroy Geoff, Norma Guerrero, Grace Gustimbase, Annurhussin Hamsain, and Sampang Hassan;

Christine Jacob, Jairulla Jaitulla, Amado Jimenez, Mark Joseph, Ana Labayan, Rolando Landrito, Agapito Lozada, Gertrudes Lozada, Nulsali Maddin, Mohammad Mala, Victorino Marcelino, Sukarno Maut, Ibenoratica Muksan, Parson Nabuila, Andres Ofilada, Eugeino Palileo, Ryan Papa, Encarnacion Partilo, Nurhatab Rajab, Lolita Ramirez, Bana Sailani, Artemio Salamat, Dan Salvador, Roland Santos, Akiko Thomson, Kemalpasa Umih, Serafin Villanueva, Artemio Villavieja, Erudito Vito, William "Billy" Wilson, and Norma Yldefonso.